Ecosense Sustainable Solutions Pvt. Ltd. installed a renewable source emulators-based DC Microgrid at Dr B.R. Ambedkar National Institute of Technology, Jalandhar.

Microgrid Lab at NIT Jalandhar
What is a DC-Microgrid?
A Microgrid is a localized group of electricity sources and sinks (loads) that typically operates connected to and synchronous with the traditional centralized grid (macro-grid), but can also disconnect and maintain operation autonomously or go completely off-grid as per the requirement.
A DC micro-grid system is a power network that enables the introduction of a large amount of electrical energy using distributed C Power generation units such as Solar Panels, Batteries, fuel Cells etc.
Advantages of a DC Micro-grid
The conventional electrical system in place today sees our electrical devices powered by AC mains. But as renewable technologies such as solar Photovoltaics and wind power become more prevalent at a household level, DC micro-grids could be a cheaper and more efficient alternative.
Take lighting and 'gadgets' for example. Lighting is widely considered to account for around 20% of global electricity consumption, and a recent report from the International Energy Agency estimates that up to 15% of domestic energy is consumed through 'gadgets' - i.e. computers and consumer electronics. LEDs are emerging as a preferred option for high efficiency lighting, and they run on DC power. Similarly, most gadgets operate on DC power, so these two sectors alone add significant and increasing global consumption of electricity by DC devices. But these are presently powered by AC mains via multitudinous individual transformers.
Feasibility of DC Micro-grid
Fuel cells, Solar PV and many small-scale renewables natively generate low voltage DC power. Most of these generators supply power to AC mains networks and require costly and inefficient power invertors; even where the power may ultimately be delivered to a DC device.
A possible solution is to install a DC network linking DC devices to DC power supplies. Such networks have not yet emerged because of the higher electrical losses associated with transmitting a fixed amount of power as low voltage DC, rather than higher voltage AC. Aside from reducing resource and financial costs, a key advantage of DC microgrids is that the low risk of dangerous electric shocks from low voltage DC makes plug-and-play grids a possibility. This greatly reduces the installation cost of micro-generation, and could empower end users to take responsibility for understanding and controlling their individual energy consumption.
Ecosense's renewable source emulators-based DC Microgrid:
This is a one-of-a-kind learning system where instead of using actual renewable energy resources, we are using source emulators. It is a real- time replica of a micro-grid that operates using emulated renewable energy sources such as Solar PV and Wind Turbine.
It can operate independently or in conjunction with mail electrical grid using a Voltage Source controller. It is a proprietary hardware product controlled by a software interface.
The objective of the product is to give the user the scope to learn and work with all aspects of a micro-grid by emulating real-time like situations and conditions.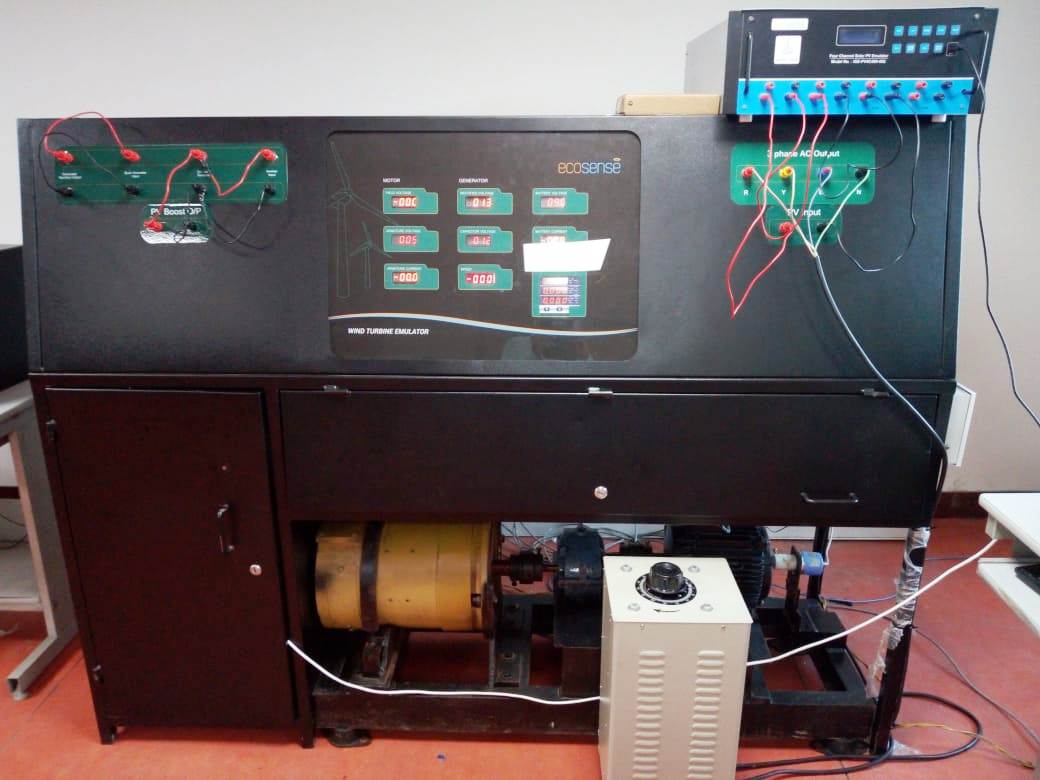 Microgrid Lab at NIT Jalandhar
Advantages of Ecosense's Micro-grid system:
• DC Micro-Grid has been designed in such a way that no students' experimentation or research will be limited by the environmental conditions or the remoteness of his/her location.
• Using PV Emulator System, a user can emulate the behavior of Solar Panel of his/her choice by entering latitude and longitude of any location and selecting Day, Date and Time of Simulation.
• Similarly Using Wind Turbine Emulator System, a user can emulate the behaviour of Wind turbine by assigning Wind Speed, Pitch angle and Blade Radius of his/her choice
• The system is highly flexible and scalable with options to extend the renewable energy sources beyond Solar PV and Wind systems.
• User can add any DC Source or AC Source with rectifier of his/her choice as long as same voltage level is maintained as of DC Micro-Grid as DC Synchronization only requires to maintain the same voltage level