Our Team
Team Ecosense comprises of engineers from premier institutes such as IITs and from varied backgrounds such as Electrical Engineering, Electronics Engineering, Mechanical Engineering, Embedded Systems and Renewable Energy. Our Sales and Marketers are all dedicated to our clean technology mission. We enjoy our work and working with the various skill sets and personalities within the team.
Every member of the Ecosense team believes strongly in the empowering power of knowledge. Every day, we unite in doing our best to develop and implement renewable energy technology solutions coupled with education content and training.
Our CEO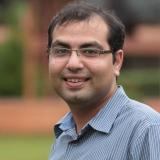 Mr. Abhishek Manglick is the Founder and Chief Executive Officer at Ecosense. After completing his Bachelor's in Mechanical Engineering from IIT Mumbai in the year 2004, he worked with HPCL for two years. He then went on to set up his first company V2learn in the field of online education; he handled it for four years before moving on to set up Ecosense in the year 2010. He is an enterprising professional and brings an extensive knowledge of business operations from his previous endeavours. He currently handles the management of the company, national business development and the Research & Development vertical.
Abhishek Mangalick
CEO